London Mayor announces £25m small business fund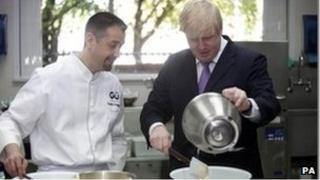 London Mayor Boris Johnson plans to use £25m of government money to help small businesses access loans.
It forms part of proposals to invest the second tranche of a total £111m provided by the government to try to revive London's economy.
Government ministers recently criticised the mayor's slow progress in creating a "jobs and growth strategy".
The mayor has so far spent only £2m of £70m available to his London Enterprise Panel in the first tranche.
Mr Johnson was not clear on the details of how the £25m would be spent but said would be used to help small businesses.
"Today's fund, which will enable significant support for small and medium businesses, is just one way we are working to unlock potential and provide jobs for our growing city," Mr Johnson said at a Gu pudding factory in Walthamstow.
'Turned down'
His officials said the idea was to get a private financial institution to match the amount, creating a £50m fund to help provide loans and equity for small and medium-sized businesses.
Steve Warwick from the Federation of Small Businesses said it would be welcomed.
"The credit crunch has meant that many businesses have struggled to get the finance that they need to operate their business effectively," he said.
"Our research shows that five in ten businesses in London were turned down for a loan or overdraft in the first quarter of 2013.
"This needs to be addressed as a matter of urgency which is why it is vital that the scheme announced today is attached to the soon to be created Business Bank which will house a myriad of similar funds."
A further £15m is being made available for companies and research institutions in the science and technology sector who must apply for funding.
It has also emerged the mayor plans to spend £25m on widening the Western Anglia rail route, saying this will help the economy of east London by improving transport links.
Mr Johnson said it was "coincidental" the West Anglia rail franchise is one of the two he wants to take over next year.