Leaky Regent Street to close again - Thames Water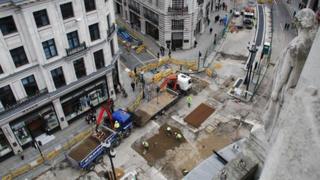 Regent Street in London's West End is to be closed once again so repairs can be carried out to a collapsed sewer and leaking water main.
The busy shopping street was shut for three weeks earlier in the year due to a burst water pipe.
Now southbound lanes between Oxford Street and Little Argyll Street will be closed.
A Thames Water spokesman said it hoped to have work done by the end of the Bank Holiday.
But he cautioned work could take longer if investigations threw up other problems.
'Catastrophic burst' warning
The issue came to light following reports of water entering the basement of a nearby shop and an old communication tunnel.
Thames Water said if left it could lead to a "catastrophic burst".
It is unrelated to the previous problem.
Damian Crawford, Thames Water's network manager, said: "We are really sorry to have to shut part of Regent Street again, particularly given that just two months ago we were saying no-one would thank us if we were back on the same street in a few months' time.
"We fully understand people's frustrations and we really are working as hard and fast as we can to get this new set of problems sorted out.
"The reality is that a third of the pipes under London were put in by the Victorians - and when things get old they break."