North London trust helps forced marriage perpetrators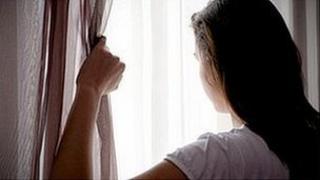 Thousands of victims of forced marriage and honour violence have walked through the doors of the Jan Trust seeking help.
But on one afternoon, it's a perpetrator who has turned up at the charity's office, hidden away on a quiet road in north London.
Shainaz forced her 16-year-old daughter into a marriage because she was afraid she would run away with a boy and damage the family's "izzat", or honour.
''I told her she was going on a family holiday to Pakistan to see her grandparents,'' recalled Shainaz.
''But when she got there, we told her she was going to marry her first cousin.
"We explained she had to do it for the family's izzat and that she had no choice.
"She cried and objected but we carried out the Nikah (Islamic wedding) without her consent."
'Regret and sadness'
Shainaz, who has changed her real name to hide her identity, bought her daughter back to London after the marriage and kept her locked up at home.
''We did not allow her to speak to her friends or go outside alone and she wasn't allowed to make any phone calls; we were scared she would try to run away or tell someone. She would cry every day."
Four years on, Shainaz looks back at her actions with regret and sadness.
She is now one of many perpetrators of forced marriage who are working with the Jan Trust to help tackle the issue in London.
The charity claims to be the only organisation in the country which recruits parents and adults who have arranged forced marriages or committed acts of honour violence.
Sajda Mughal, director of the trust, said: "We educate the perpetrators, try and change their misguided mind-sets. If we are successful, they then become our ambassadors in the community.
''They go out and educate people about the fact that forced marriages are wrong."
Shainaz has been doing that for a number of years.
"I tell people about my story and try to stop them from making the same mistake," she said. "I tell them that a forced marriage is not good. It's not good for the boy or the girl. "
Shainaz was recruited by the charity after her daughter contacted the Jan Trust for help on the internet.
''They explained a lot to me and my husband, they spoke to us with an imam, and they made us understand that we had made a mistake.
"I had hurt my child and treated her very badly. The boy was not even educated. But we were ready to sacrifice our child for the sake of our izzat.
Challenge attitudes
"Islam does not allow you to force your child into a marriage."
While Shainaz has come to understand her mistake, the Jan Trust admits it is not easy to change people's attitudes and behaviours.
The Forced Marriage Unit gave advice or support in 1,485 cases in 2012, although it is believed many other forced marriages go unreported.
''Forced marriage is a culturally embedded issue and it is an enormous challenge trying to eliminate this practice," said Mrs Mughal.
"We have worked with hundreds of perpetrators, it is vital to challenge their attitudes.
"We must not exclude them from the work of forced marriage," she added.
Other charities trying to tackle honour violence across the capital have welcomed the programme.
Anita Prem, founder of Freedom charity said: "I think it's a positive step and important to break the cycle of honour violence.
"It's vital for perpetrators and adults to understand the horror of what a victim is put through."
But some people are not convinced educating perpetrators will change anything.
'Viscous cycle'
Aliyah, 20, who managed to escape being forced into a marriage with a cousin from India is not optimistic.
"No religion says you can force your child into a marriage," she said. "But parents that do it are mixing culture with religion.
"You just can't change the thinking of some adults. They live for the community and their main concern is, what will other people think," she said.
However, for Shainaz and her family, education has helped break a vicious cycle. She arranged an Islamic divorce for her daughter, who is now studying at university.
"My child is 21, she is very happy. The whole family is very happy," said Shainaz.
She added: "I will never make the same mistake again. I have other children but I will never force them to marry.
"This is my advice for all parents; do not ruin your children's lives."
You can hear more on this story on the BBC Asian Network on Tuesday, 28 May at 13:00 GMT and 17:00 GMT or listen back on BBC iPlayer.