Crystal Palace promotion: Selhurst Park revamp plans 'embryonic'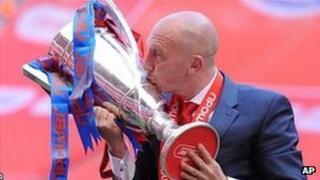 Stadium regeneration plans for Crystal Palace have been described as "embryonic" by the club's chairman.
Steve Parish said plans for Selhurst Park would be "accelerated" following the 1-0 play-off win against Watford.
But he added: "We're working on re-developing the ground a stand at a time."
It had been suggested a new stadium would be built after it was estimated the club's promotion to the Premier League would earn it £120m.
Monday's victory at Wembley means the Eagles will play in the top division next season, for the first time since the 2004-05 campaign.
Mr Parish said: "What's really important is that we don't come up and have a nice time for a year and then come back down. We need to make sure there's a [football] legacy from all this."
'Massive regeneration'
Only four of Palace's 19 rivals in next season's Premier League currently have smaller home stadiums - West Bromwich Albion, Fulham, Hull City and Swansea City.
Mr Parish said in an "ideal world" increasing the stadium capacity from 26,000 to 40,000 would generate a good income for the club but Selhurst Park would need to be expanded in stages.
Following the win, Croydon North MP Steve Reed said: "We've got the likes of Manchester United and Chelsea coming down, it's a massive regeneration effect particularly if the club decide to go ahead and re-build the stadium.
"They could get a lot more in there than just a football ground, we're talking leisure facilities, shopping, perhaps conference facilities, this means jobs."
Mr Parish said: "We'd look at any sensible suggestions. We haven't got the biggest amount of land there, but we've been looking at pop-up outlets where they don't hold stock.
"We've got Sainsbury's on the site so we've been discussing things with them.
"It's very embryonic, but I was working on it as an army of one, but now we can look at it a bit more seriously."