Rise in violence on London's Tube network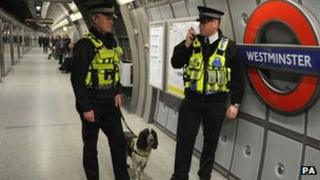 The number of cases of violence on the Tube network rose by more than 100 over the past year, police figures reveal.
There were 1,897 incidents of violence against persons on the Tube and Docklands Light Railway in 2012-13, compared to 1,792 the previous year.
Cases of thefts of passenger property also rose from 6,021 to 7,282.
But the overall crime across London's entire transport network fell from last year, with a drop in robbery and criminal damage, figures show.
'Safe environment'
Figures from the Metropolitan Police and British Transport Police show there were 8.9 crimes per million passenger journeys in 2012-13, a drop from 9.4 from the previous year.
Robbery also dropped by 17.6%, criminal damage was down 15.7% and there were 6.8% fewer incidents of violence against individuals, across all forms of transport.
Crime on the buses fell compared to last year and now stands at less than half of the level in 2005-06 when it reached a peak of 21.6 crimes per million passenger journeys.
But incidents on London Overground rose by 18.3% to 6.7 crimes per one million passenger journeys.
Transport for London said the network was a "safe, low crime environment" but it was "putting in measures to effectively deal with the rise in theft on some modes of the network".