Drone death Londoner's Somalia links probed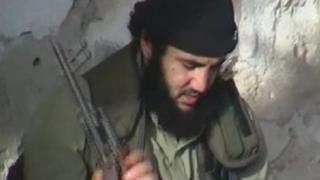 Concern has been raised over the ease with which a Londoner killed in a drone attack in Somalia was able to attend militant Islamist camps in the country.
Bilal Berjawi, from St John's Wood, was reportedly operating at a senior level within the Islamist group al-Shabab until he was killed.
BBC London has now obtained a video showing a man identified as Mr Berjawi fighting alongside the group and taking part in training exercises.
The Home Office has not commented on the case.
Mr Berjawi, born in Lebanon, is believed to have first travelled to Somalia in 2007 to attend militant camps run by the insurgent group, which is allied to al-Qaeda.
He then returned to the UK to raise funds for Somali fighters.
Early in 2009 he visited Africa again, and was detained by the authorities in Kenya.
Michael Adebolajo, one of the suspects in the killing of Drummer Lee Rigby, has also previously been arrested in Kenya while allegedly trying to join al-Shabab.
Mr Adebolajo denied these allegations in court in Kenya in 2010.
Following his own arrest, Mr Berjawi was sent back to Britain, although he was never charged with any offence.
'Back and forth'
But in October 2009 he left the UK for Somalia again.
Raffaello Pantucci, of the Royal United Services Institute, said: "It seems Berjawi was part of a community of people predominantly from London who were going back and forth to train and fight with al-Shabab in Somalia.
"[They] were also apparently raising money, which is crucial for these groups to continue."
In 2010, Mr Berjawi's family in London were told his British citizenship was being revoked.
Cageprisoners, a group that advises people accused of terror offences, say he told them he felt harassed by UK security forces while living in Britain.
Then in 2012 he was killed in a drone attack, the death announced by Al Shabab on their Twitter feed.
Keith Vaz, chairman of the influential Home Affairs Committee, has expressed concern at Mr Berjawi's visits to Somalia given that he was known to British security services.
Mr Vaz said: "We need to make sure we stop this happening again, rather than letting information bypass us for whatever reason.
"I think that needs the full facts coming from the security services, and we hope to obtain them about this and other cases as we conduct our inquiry [into wider international terrorism]."
The Home Office would not comment on any of the claims.
Mr Berjawi's family said they did not want to comment on the allegations against him.
But his life and death in Somalia raises more questions for the security services about how they deal with British citizens trying to join militant groups abroad.