GB Row 2013: Teams chase £100,000 round Britain race prize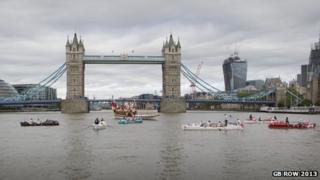 Six rowing boats have begun a 2,000 mile (3,220km) race around Britain.
The GB Row 2013 event began when the Queen's Rowing Barge Gloriana led the vessels beneath Tower Bridge in central London.
The competitors are hoping to beat the record for completing the course, which stands at 26 days, 21 hours and 14 minutes.
The first crew back will win £15,000, while £100,000 is on offer for setting a new record.
Exocet missile
The crews will have to battle dangerous tides and avoid busy shipping lanes featuring car ferries and industrial fishing trawlers.
David Hosking, 58, a Falklands War veteran who is captaining one of the boats, said he was raising money for military mental health charity Combat Stress.
His daughter, Sophie Hosking, won a rowing gold medal at the London 2012 Olympics.
Mr Hosking, awarded an MBE in 1992 for his service with the Royal Navy during the Gulf War, said there was no chance of her joining him for the race.
"She certainly wouldn't do it, she thinks I'm mad," he joked.
"But she's supported us and she's been on board giving us some coaching tips."