Waste left after unlicensed 'floating carnival'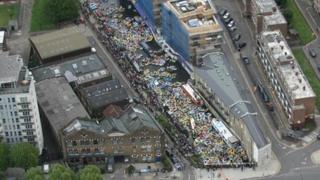 Regent's Canal in east London was left strewn with debris by thousands of revellers at an unlicensed carnival.
For safety reasons Canalival organisers had cancelled the event 48 hours before it was due to start, but thousands of people still filled the canal with inflatable boats.
A section from Hoxton to Hackney was left covered in shattered glass.
The Canal and River Trust said its workers had to toil for more than 12 hours to clear up the mess.
On Thursday organisers called off the event, scheduled for Saturday, because they could not "secure the confidence of the authorities" regarding safety arrangements.
'Dreadful mess'
Residents have described the mess left by revellers at the unofficial gathering as "unacceptable".
One, who attended the event, wrote on the Canalival Facebook page: "I am so saddened about the mess you have left behind!"
She said it was outrageous the area had been left covered with smashed glass, cans and the remains of boats.
Jon Guest, waterway manager at the Canal and River Trust, said the charity had not supported or authorised Canalival and that the cancellation had come too late.
"We are not happy with the organisation of this event, with the lack of co-ordination and the dreadful mess left in its aftermath," he said.
"We love people enjoying themselves on the waterways, but not when it comes at the expense of the canal, its wildlife and its other users and neighbours."
The event was first held last year as an alternative to the Queen's Diamond Jubilee flotilla.
Canalival organisers said: "We really don't want to make enemies of neighbours.
"This should be an inclusive event that everyone is able to enjoy."
Organisers said their volunteers had helped to clear up the mess on Sunday and said Canalival would be making a donation to the Canal and River Trust.