Head teacher Jo Shuter quits after 'funds misuse' probe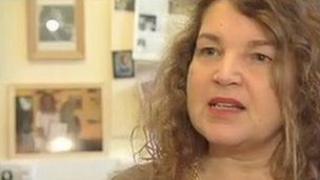 A former head teacher of the year has quit after a report found she presided over the misuse of public funds.
Principal Jo Shuter, of Quintin Kynaston Community Academy, in London, said: "My 11 years of headship have been a source of pride and happiness."
Patrick Lees, chairman of the school's governing body, said: "Jo felt her position at QK had become untenable."
Last month, a Department for Education (DfEd) report criticised Ms Shuter over "extravagant" spending.
The head teacher of the school in St John's Wood was suspended over financial issues in 2012 and later reinstated.
'Fraud' claim
But a DfEd investigation, which looked at spending between January 2011 and August 2012, detailed numerous concerns, including:
Ms Shuter not declaring any business interests despite having close links to a number of suppliers used by the academy
"Widespread" personal use of academy taxi accounts with an estimated £2,663 of personal travel costs identified
At least two cases of expenses being claimed more than once from different organisations, which "could amount to fraud"
A number of issues relating to the employment of family members
The investigation also revealed how senior staff members held off-site meetings at exclusive hotels. An overnight meeting held in January 2012 at the Grove Hotel, in Chandlers Cross, cost £8,269.
In another incident which caused the report authors concern, the academy bought chairs to the value of £1,579, which were delivered to Ms Shuter's home.
Ms Shuter was named head teacher of the year at the 2007 Teaching Awards and appointed CBE in June 2010.
Announcing her resignation, Ms Shuter, who lives in Dollis Hill, north-west London, said: "It is with sadness and regret that I have taken the difficult decision to tender my resignation as head teacher of QK Academy following the governors' decision to reinstate me after a lengthy investigation."
Mr Lees said: "Whilst we as the governing body have reinstated Jo, following the publication of the EFA report last week Jo felt her position at QK had become untenable.
"She has today proffered her resignation, which we have accepted."