Warehouse fire destroys 225,000 Time Out London magazines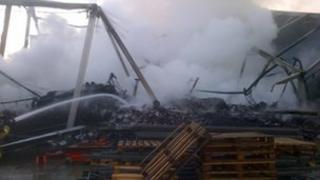 Time Out London magazine has had to postpone publishing after a warehouse fire destroyed more than 225,000 copies of the publication.
In a statement the magazine said 80,000 copies were saved and the next edition would be distributed on Thursday.
The fire on Monday started in a gas-driven forklift truck being used on an industrial estate in Bicester, Oxfordshire.
More than 45 firefighters were sent to the scene.
Oxfordshire Fire and Rescue Service said the cause of the fire was believed to be accidental, but a full investigation was under way.