Muslim groups want 'serious action' over attacks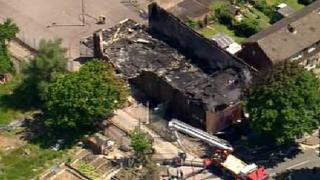 Muslim groups want the authorities to take "serious action" over anti-Islam attacks following a suspicious fire in north London on Wednesday.
Leaders spoke after the Somali Bravanese Welfare Association in Muswell Hill was burned down.
Farooq Murad, of the Muslim Council of Britain, said: "It is time for serious action against such crimes."
The Met said it was conducting a "vigorous and thorough" investigation into the fire.
'EDL' graffiti
The building on Coppetts Road, which was also known as the Al-Rahma Islamic Centre, was reported to be ablaze at about 03:15 BST on Wednesday.
No-one was injured in the fire, which was brought under control in just over an hour.
Following the fire, police said, the letters "EDL" (English Defence League) were found sprayed on the side of the building, which was used as a community centre - mainly by children after school.
The force's Counter Terrorism Command Unit is investigating.
Mr Murad said: "This is the latest in a series of attacks on Muslim institutions.
"Admirably, local police forces and borough commanders have been liaising with communities.
"Now we need to hear from the Metropolitan Police commissioner and the leaders of the Association of Chief Police Officers as to what they will be doing to prevent this rise in attacks."
Barnet Council leader Richard Cornelius said the authority intended to rebuild the centre as "a reminder of how the communities in Barnet battle against intolerance".
Wednesday's fire was the latest in a number of incidents across England in which mosques and Muslim community centres have been targeted.
Fiyaz Mughal, of Faith Matters, a group which monitors religious tensions, said: "It is very concerning when we know that, online, there is a huge amount of anti-Muslim hate.
"When it moves into the physical world, it is extremely concerning."
Kevin Carroll, of the EDL, said: "The EDL do not approve of any religious buildings being attacked."
Also on Wednesday, RAF Bomber Command War Memorial in Green Park, central London, was defaced for a second time in recent days. The latest graffiti said: "Lee Rigby's killers should hang."
It was also targeted by graffiti vandals last week, as was the Animals in War memorial in nearby Hyde Park which was daubed with the word "Islam".