New TfL website to appeal to mobile users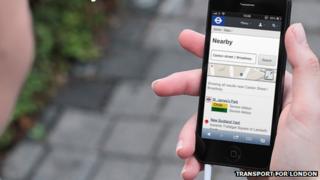 I've been given a look at the new Transport for London (TfL) website.
The old one has been in use since 2007 and it is very popular with 250 million visits annually.
But it is very clunky when you're using it on your mobile.
The new one is aimed at phone users as TfL thinks this is where the majority of traffic will come from in the future.
Annoying glitches
As a disclaimer I tested the site using Wifi, not 3G, and it was a very brief look.
What the web team at TfL say it is doing, is simplifying the site and making it easier to plan your journey using a touchscreen.
It will also get rid of extremely annoying glitches like the Tube map not loading on iPads and other tablets.
There are some additions - which are pretty standard on many of the transport apps available now - that mean you can also use your location.
Route by bike
There will eventually be a "Nearby" button that gives you the closest transport options closest to you.
It will use Google Maps to show your route or location and Google Street View will also be available.
It will map out the bus route and use real-time data to show how long you have to wait until the next bus.
When you plan a journey you will also, for the first time, be given the route by bike.
Not an app
Part of this is commercially driven. The TfL website makes up to £1m a year on advertising.
It says it will be looking to increase revenue as long as it does not infringe on the user's experience of the site.
And it will not be an app but will still be accessible through a browser.
Nonetheless. I'm sure some app developers will be watching these developments with some interest.
The site goes into beta in the next few weeks and TfL wants your opinion when it launches.
The new website will launch for real at the end of the summer, with the exact date to be confirmed.