Transport for London reveals road safety plan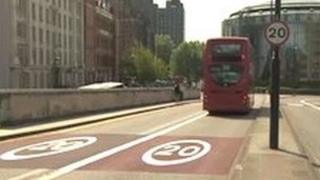 Transport for London (TfL) has pledged to double the amount of money it spends on the capital's roads in a bid to reduce deaths and injuries by 40%.
The Safe Streets for London plan for road safety until 2020 is to be funded from the roads budget, which is rising from £1.9bn to £3.8bn over 10 years.
It includes road safety lessons for every school child and 20mph zones.
Mayor of London Boris Johnson said he wanted to make London "the most liveable capital city".
Digital cameras
In its plan TfL said it would work to advocate the use of new systems, such as advanced emergency braking, in the car industry.
Data would be used by traffic police to identify specific times and places where there was a high risk of collision.
The report also outlined intentions to:
Improve London's safety camera network by replacing old film cameras with digital technology
Roll out pedestrian countdown at traffic signals
Every school pupil in London to be given road safety training every year and every school offered cycle training
Install more 20mph zones and speed limits on roads across London
TfL said excessive or inappropriate speed was a factor in 9% of all collisions on London's roads in 2011.
Of all the fatal crashes excessive speed was a factor in 22%.
Studies have found that most pedestrians survived collisions with a vehicle travelling at 20mph.
London's 'strong position'
In 2011, there were 2,722 collisions in the city. That increased to 2,454 in 2012.
Commander Adrian Hanstock of the Metropolitan Police said: "We are keen to explore every opportunity to build on our education and enforcement programmes and work even closer with our partners to improve the road environment."
According to TfL about 80% of journeys each day in the capital are made using roads.
Cynthia Barlow, chairwoman of RoadPeace, added: "With the mayor's responsibilities encompassing both TfL and the Met Police, London is in a strong position to take a systematic approach following each fatal or serious injury incident, which looks at all the relevant factors so that lessons can be learned."