Convicted ex-mayor Brian Coleman expelled from Tory party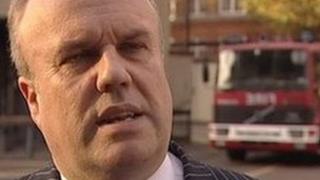 An ex-mayor who was convicted of attacking a woman has been expelled from the Conservative Party.
Former Mayor of Barnet Brian Coleman admitted common assault by beating when he appeared in court on 3 May.
He attacked the woman as she filmed him parking illegally in a loading bay on a street where he had helped to introduce unpopular charges.
A spokesman for Chipping Barnet Conservatives said it had voted to expel him from the association.
Mr Coleman said he would be standing for re-election next year, on "a platform of proper Conservative values".
Scratches to wrist
He added: "I look forward to continuing to represent my residents."
Mr Coleman, of Essex Park, Finchley, was ordered to pay £1,385 when he appeared before Uxbridge magistrates.
The court heard that cafe owner Helen Michael, 50, a parking campaigner, suffered injuries including scratches to her wrist during the assault by Mr Coleman.
District Judge Deborah Wright said he was a man of "previous good character" who had made significant contributions to society.
After he was charged in October, Mr Coleman was suspended by his party and stripped of his council committee duties.
He was mayor of Barnet between 2009 and 2010, and a former chair of the London Fire and Emergency Planning Authority. He lost his seat on the London Assembly in the last City Hall elections.