Gunman guilty of amputee murder bid in Ealing shooting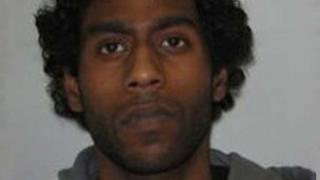 A gunman has been found guilty of trying to kill a double leg amputee as she lay in bed, after shooting her partner dead over a drug deal.
Daniel Bidace Anthony fired two shots at Amy Ashitey. One bullet pierced her lung and remains in her body while the other missed.
The Old Bailey heard Bidace Anthony had already killed her partner, Dothan Gordon, in the couple's home
Bidace Anthony wanted to kill Miss Ashitey because she recognised him.
Jurors found Bidace Anthony, 30, of Earl's Court, guilty of murder, attempted murder and possession of a firearm with intent to endanger life by a majority verdict after 10 hours of deliberations.
Another defendant, Antonie Joseph, was cleared of assisting an offender.
The shootings happened at the couple's home in Ealing, west London, last June.
'Cold-blooded execution'
In a statement read to the court, Miss Ashitey paid tribute to her partner, who was known as Sunny, as the father of their "two beautiful girls".
"He was such a huge part of my life," she said.
Miss Ashitey was confined to a wheelchair after falling from a building in a failed suicide attempt but she said she had hoped to walk down the aisle with Mr Gordon at a wedding ceremony planned for August last year.
In her statement, Miss Ashitey added the bullet in her body was a "constant reminder" of what had happened.
Prosecutor Jonathan Rees QC previously told the court Mr Gordon was shot in the back of the head as he tried to act as a middle man in a £100,000 drugs deal.
"This case involved the cold-blooded execution of a man and the callous attempted murder of a double amputee lying in her bed when she was shot.
"The man was trying to kill her because she had recognised the killer."
Det Ch Insp Dave Rock said: "Bidace has shown no remorse for murdering Dothan, neither has he shown any remorse for the injuries he has inflicted on Dothan's partner.
"I would like to pay tribute to the victim; she has shown a tremendous amount of courage to attend court and to give evidence against Bidace to ensure that he is brought to justice."
Judge Timothy Pontius adjourned sentencing until Wednesday morning.