Wendell Baker begins second trial for Stratford rape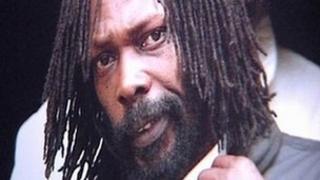 A man previously cleared by a court of raping a pensioner in her bedroom has gone on trial at the Old Bailey under the amended double jeopardy law.
Wendell Baker, 56, is accused of attacking Hazel Backwell, then 66, and leaving her trapped in a cupboard at her home in Stratford, east London, 16 years ago.
He was freed after the judge stopped the case for legal reasons.
A change in the law in 2005 allows a retrial in certain circumstances.
Mr Baker denies rape.
The case was reopened in 2009 and Mr Baker, from Walthamstow, was arrested in 2011.
Prosecutor Rosina Cottage QC told the court Ms Backwell, who died in 2002, had suffered a "terrifying ordeal".
She said: "Apparently after money, he assaulted her, tied her hands behind her back and raped her.
"The house was ransacked. He then left her trapped in a cupboard."
After Ms Backwell was found the next evening she was taken to Newham hospital with a number of injuries consistent with rape and assault, the court heard.
'One in a billion'
Baker was arrested in October 1998 on suspicion of rape and provided a DNA sample which matched the DNA profile of swabs taken from Ms Backwell, jurors were told.
"The defendant may suggest that the DNA has been deliberately tampered with, or accidentally contaminated in some way," Ms Cottage said.
"The results show that the match probability is one in a billion.
"In short, however much he denies it, all DNA roads lead to one man - this defendant."