'No end' to hunt for abducted girl Aamina Khan, six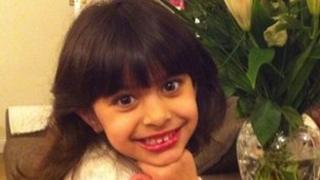 A doctor wanted for abducting her six-year-old daughter after the end of her marriage has been warned: "The courts will not give up."
Humma Dar, 39, vanished with daughter Aamina Khan, seven, in August 2011. They are thought to be in Pakistan.
Deputy High Court Judge Clive Heaton said it is impossible not to have sympathy for her father Safraz Khan, 44, of Croydon.
Mr Khan, also a doctor, has been given custody of the girl.
Judge Heaton was speaking at a hearing in the Family Division of the High Court in London, where he gave permission for Aamina to be identified in media reports.
He said the search for Aamina and Dar - who vanished from Morden, south-west London in August 2011 - had not reached its end.
He added: "I urge the father to continue to pursue all proper steps open to him to locate his daughter. Where the court can properly assist him in the search it will certainly do so."
After the hearing, Dr Khan - who works in research - urged anyone who thought they might have seen his daughter and ex-wife, or had any information which might help, to come forward.
He said he had travelled to Pakistan a number of times in the hope of finding Aamina and felt sure that his ex-wife and daughter had flown into Lahore after leaving London.