Queen's Jubilee barge Gloriana crashes into bridge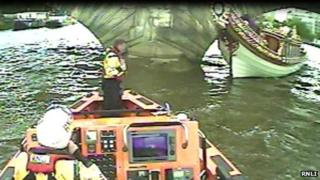 Gloriana, the £1m barge which led the Queen's Jubilee Pageant, has crashed into a Grade II listed bridge.
The vessel hit Kew Bridge in south-west London at about 19:00 BST on Thursday after apparent engine failure.
The boat had been blown towards the bridge, becoming wedged by the rising tide. It was eventually towed to Kew Pier by the RNLI.
There was superficial damage to gilded carvings on one side and a wooden crown on the stern was knocked overboard.
Describing the smash on its Facebook page, Chiswick RNLI said: "It appeared the Gloriana was travelling under its own power when both engines failed as it was passing Strand-on-the-Green.
"The incoming tide then carried the vessel upstream where it became wedged under the central span of the bridge.
"Whilst discussing with the skipper the best way to extricate her, Gloriana came free and was blown by the gusting winds to the other side of the span.
"The lifeboat attempted to get between the [barge] and the arch to prevent her from getting jammed again but couldn't get there in time."
It was during the rescue that damage was caused when the aft platform of the lifeboat came in contact with the port quarter of the Gloriana.
But the RNLI insisted: "It was important the recovery was carried out quickly as the tide was still rising and Gloriana would have become even more firmly wedged under the bridge causing further damage to its superstructure."
'Ping-pong ball'
Mark Edwards, the master boatbuilder whose team created the Gloriana row barge for the Queen, said he would be repairing the damage in the next few days.
He said: "There's a ping-pong ball-sized hole in the side but it's well above the waterline so it's not a problem.
"There's a small piece of wood missing from a hand rail and there's some gold leaf that needs repairing."
The 94ft (28.6m) barge was presented to the Queen before a pageant of more than 1,000 boats sailed down the Thames last June to mark the monarch's 60 years on the throne.
Buckingham Palace has not commented on the crash.