Anger over Royal Parks fitness licences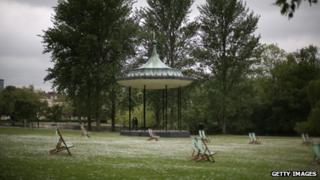 Personal trainers have voiced anger at new £1,500-a-year licences needed to hold exercise classes in Royal Parks.
Fitness instructors must shell out the fees to hold sessions in Hyde Park, Regent's Park, Green Park, Bushy Park, Richmond Park and Greenwich Park.
One instructor accused Royal Parks of not doing its bit to keep the local community healthy.
Royal Parks said it was simply putting personal trainers in line with other commercial activities.
The organisation pointed out that film companies have to pay a licence fee, as do dog walkers and events companies.
But fitness instructor Jacqui Porjes said: "No yoga teacher, no personal trainer is rich.
"We are able to make a living
"We're making a contribution to the fitness and the health of our local community - we're asking Royal Parks to do the same."
Figures obtained by the BBC under Freedom of Information legislation show that a total of 25 licences have been issued this year in the parks.
Another two licence applications are pending, while they are not issued at all for St James's Park or Kensington Gardens.
John Clutterbuck, a personal trainer, said he was pursued by a police car for not having one of the documents.
He said: "I realised he was chasing me, so i thought, I am just going to run, I haven't got time for this.
"It wasn't quite the blue lights, but it was definitely harassment."
The Metropolitan Police could not be contacted for comment.