Woolwich attack: Medals petition for 'courageous' women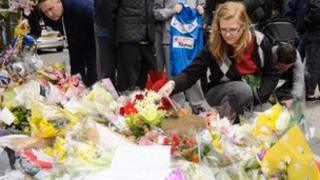 A petition calling for bravery medals for three women who confronted alleged armed attackers in Woolwich has been handed over to Downing Street.
More than 85,000 people signed the petition calling for George Medals for Ingrid Loyau-Kennett, Amanda Donnelly and daughter Gemma Donnelly-Martin.
The mother-daughter duo stayed with Drummer Lee Rigby, 25, while Ms Loyau-Kennett faced an alleged attacker.
The soldier was killed outside the Royal Artillery barracks on 22 May.
Ms Donnelly and Ms Donnelly-Martin insisted on being allowed to sit with the father-of-one after he had been attacked.
Ms Loyau-Kennett, 48, from Helston, Cornwall, tried to reason with an alleged attacker.
The Rev Jesse van der Valk, Rector of Woolwich, who started the petition at Change.org, said: "They showed great courage, selflessness, compassion, and presence of mind.
"And their actions brought dignity to Lee at the end of his life.
"This large number of signatories shows the overwhelming support there is all over the UK, and indeed the world, to see these women rewarded for their exemplary actions as citizens."
A George Medal is the UK's second highest medal for bravery and is awarded to civilians for acts of courage.
The petition is addressed to Defence Secretary Philip Hammond.
Michael Adebolajo, 28, from Romford, east London, and Michael Adebowale, 22, of Greenwich, south-east London, have been charged with Drummer Rigby's murder.