Olympic Park and Orbit 'could host weddings'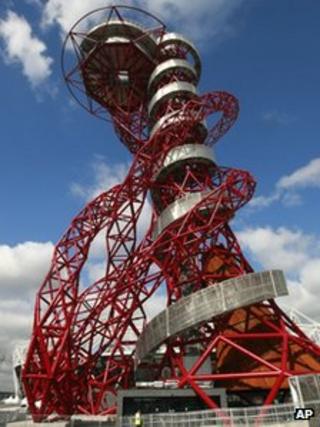 The Olympic Park could become a wedding venue, with couples taking their vows on the ArcelorMittal Orbit tower.
London Legacy Development Corporation said licences would be sought from Newham Council when the park reopens to the public later this year.
The applications are expected to include community space Timber Lodge and the viewing platform of the 114.5m (376ft) observation tower.
The group responsible for the park said they would make "spectacular venues".
The site in Stratford, east London, which has been closed since the Games last year, will reopen in just over a month's time at the Queen Elizabeth Olympic Park after a £550m transformation.
It will eventually include houses, businesses, parklands and venues to stage sporting, entertainment and community events.
'Special memories'
Dennis Hone, chief executive of Queen Elizabeth Olympic Park, said it would make "a fantastic place to celebrate a wedding".
Newham Council welcomed the idea saying it would provide a "further Olympic legacy boost to the local economy".
Marriages and civil partnerships are held at several landmark venues in the borough, including West Ham United football club and Theatre Royal Stratford East.
A council spokesman said: "There is no doubt that Queen Elizabeth Olympic Park is capturing the imagination of local people and visitors alike.
"It would be an ideal venue for a marriage or civil partnership, given the special memories that so many took from the London Olympic and Paralympic Games."
London Legacy Development Corporation said the Camden Society, which will operate Timber Lodge, would make the application for the community centre soon and it could host events as early as September.
Balfour Beatty Workplace is expected to apply for a licence for the Orbit, which can hold up to 300 people spread over two floors, when it reopens in spring 2014.