Regent Street Apple store smash and grab attempt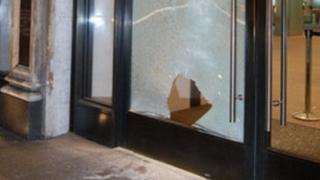 A gang used an axe to smash the window of a central London Apple store before fleeing on scooters.
The group made the burglary attempt at about 01:00 BST on Regent Street but fled when security disturbed them.
Some of the gang members escaped on scooters but two were later found at an address in north-west London.
Two men aged 21 and 18 have been arrested on suspicion of aggravated attempted burglary and dangerous driving.
Anyone with information about the smash and grab, which is thought to have involved up to eight people, is urged to contact the Metropolitan Police.