Man sought over Hillingdon temple fire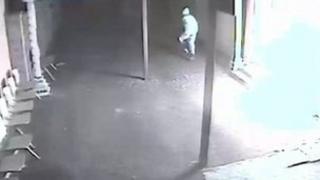 A man who was captured on CCTV as a fire broke out in a west London temple is being sought by the police.
The blaze damaged a temporary building on the premises of the Adhya Shakti Mataji Temple in Cowley High Street, Hillingdon, after midnight on 28 May.
The footage shows a man near a portable building adjacent to the temple and as he flees when a fire takes hold.
"It is of paramount importance that we trace the individual," Det Ch Insp Richard Turner said.
'Senseless attack'
Police do not believe that the blaze is linked to the suspicious fire at the Islamic Centre in Muswell Hill or a school in Chislehurst, but additional police patrols have been introduced in the area.
Mr Turner, who is based at Hillingdon, said: "The person or people who started the fire gave no thought to the fact that the portable building may have been occupied at the time.
"It is of paramount importance that we trace the individual who can be clearly seen in the CCTV and I urge anyone who recognises him to come forward and tell us what they know.
Det Ch Supt Steve Kershaw, borough commander for Hillingdon, said: "This was a senseless attack on a temporary building used by those who attend the temple and had it been occupied at the time there is every possibility there could have been a devastating outcome."
Police are treating the fire as suspicious after traces of an accelerant, believed to be petrol, were discovered at the scene.