Double jeopardy case: Wendell Baker claims police framed him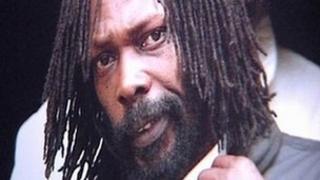 A convicted burglar whose DNA was found on a raped woman has told the Old Bailey he has been framed by police officers motivated by "hate".
Wendell Baker, 56, denies raping Hazel Backwell, 66, in her home in Stratford, east London, in January 1997.
He was cleared of the rape in 1999 but is being tried for a second time after changes to the double jeopardy laws.
He told the court he believed police could have taken semen from one of his used condoms in order to frame him.
Since changes to the law on double jeopardy in 2003, it is possible, in certain circumstances, for a person cleared of a serious offence to face a retrial.
Mr Baker's semen DNA matched samples taken from Ms Backwell - who died in 2002 - with a probability "in the order of one in a billion", the Old Bailey heard.
Defence lawyer James Wood QC asked Mr Baker: "Did you rape Hazel Backwell?"
"No," the defendant answered.
'Hounding me'
Under cross-examination, he told Rosina Cottage QC the police hated him and he hated them.
"The police have hounded me all my bloody life," said Mr Baker, of Walthamstow, north-east London.
"I have told the police it has nothing to do with me and they are still hounding me," he added.
He was asked why they hounded him and why they would frame him.
"Hate," he replied.
"There's a lot of history between me and the police, a hell of a lot of history. It wouldn't be the first time nor the last time the police fitted me up.
"This is the worst one."
'Gone through bins'
The jury heard that Mr Baker pleaded guilty in August 1993 to assaulting his girlfriend, and he also admitted affray in May 2001.
Asked how officers could obtain his semen to frame him for rape, he told Ms Cottage: "You really don't want to know.
"They could have gone to somebody's house and gone through the bins.
"Some officers frequented a house that I used to go to."
He said he "didn't know for sure" but claimed officers could have obtained one of his used condoms.
The trial continues.