Imran Farooq murder suspect arrested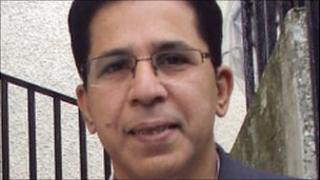 A 52-year-old has been arrested in connection with the murder of Pakistan politician Dr Imran Farooq who was killed in London.
The man was arrested on suspicion of conspiracy to murder. He was held at Heathrow Airport earlier, after landing on a flight from Canada.
Dr Farooq was attacked outside his home in Green Lane, Edgware, on 16 September 2010, police said.
He died from multiple stab wounds and blunt trauma to the head.
A kitchen knife and a house brick used in the attack were recovered at the scene.
Detectives from the Met Police Counter Terrorism Command are investigating the murder.
Asylum sought
Appealing for information, they said they believed his murder would have required careful planning and assistance from other people, some of whom may have provided assistance or information unwittingly.
Officers would like to speak to anyone who was asked for information about Dr Farooq and his routine, or who was asked to help buy items such as knives similar to those used in the murder, or mobile phones around the time of the attack.
Police have also appealed to anyone who may have been asked to drive people around the Green Lane area in the days before the murder, or who may have witnessed the suspects leaving the scene, to come forward.
A reward of up to £20,000 has been offered for information that leads to he conviction of Dr Farooq's killer.
Dr Farooq, 50, was a senior member of the MQM party and had been in London since 1999.
Following the murder, Raza Haroon, a member of the MQM central committee, said Dr Farooq - who was living in exile in London - had sought asylum in the UK as he was under "threat".
He left Pakistan when the government launched a "clean-up" led by security forces, following allegations the MQM used strong-arm tactics against opponents.
Tens of thousands of mourners attended Dr Farooq's funeral held in Karachi in November 2010. He was married with two sons.