Double jeopardy case: Wendell Baker dismisses counsel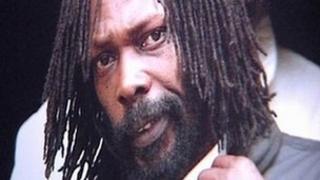 A man on trial for a second time for raping a pensioner has dismissed his leading counsel shortly before the case was due to be summed up.
Wendell Baker, 56, of Walthamstow, was cleared in 1999 of attacking 66-year-old Hazel Backwell at her home in Stratford, east London.
He is being tried for a second time after the double jeopardy law changed.
Judge Peter Rook told jurors at the Old Bailey it was Mr Baker's right to change his counsel.
The defendant has asked junior counsel Benjamin Newton to conduct the closing speech, rather than James Wood QC.
Judge Rook said: "You will notice Mr Wood is no longer in court.
"The position is, as Mr Baker is entitled to, he has dismissed with the services of Mr Wood and wishes Mr Newton to make the closing submissions.
"That's his right and you must not hold that in any way against him."
'Hounded'
The jury are expected to start deliberating their verdicts on Tuesday.
Mr Baker, whose DNA was found on Ms Backwell, has told the court he believed police could have taken semen from one of his used condoms in order to frame him.
Under cross-examination, he told Rosina Cottage QC the police hated him and he hated them.
"The police have hounded me all my bloody life," said Mr Baker, who has been convicted of burglary.
He added: "There's a lot of history between me and the police, a hell of a lot of history. It wouldn't be the first time nor the last time the police fitted me up.
"This is the worst one."
The court heard Mr Baker was acquitted of raping Ms Backwell, who died in 2002, when the first trial judge decided the case could not proceed.
Under changes to the so-called double jeopardy law, introduced in 2005, a person found not guilty of a serious offence can be re-tried and Mr Baker was re-arrested in 2011.