Toddler injured in racist attack at Walthamstow Central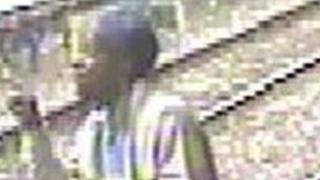 A two-year-old boy had his collarbone broken when his mother was assaulted in a racially-motivated attack at a London railway station.
The boy, who was in a pushchair, was hurt when his mother was pulled by the hair and dragged to the ground at Walthamstow Central on Sunday.
The black woman was racially abused by the man, who was also black, for having a mixed-race child, police said.
They are appealing for information about the "unspeakable" attack.
Officers searched the area for the man after the assault, at about 15:30 BST, but could not find him.
Det Con Gerry Hughes said: "She was assaulted by the man, who pulled her hair, dragging her to the ground along with the pushchair. The man then made off from the scene."
Mr Hughes added: "The victim was left understandably shocked but uninjured.
"Her son was taken to hospital where he was diagnosed with a fractured collarbone. He was later discharged from hospital.
"This was an unspeakable attack on a mother and son, and we are determined to find the man responsible."
The man officers want to speak to was wearing a green and blue striped top and a navy blue head covering.
Mr Hughes said: "I'd urge anyone who has any information into the incident, or recognises the man pictured, to come forward and assist officers in this investigation."