Romanian squatters moved from Hendon FC's old ground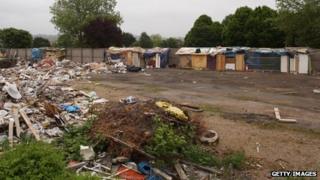 Dozens of Romanian squatters have been evicted from the site of a former football club in north London.
Up to 68 people were moved from the old Hendon Football Club in Claremont Road, Cricklewood, in a joint operation by police and border officials.
Barnet Council said the squatters had been living in makeshift shelters without sanitation for months.
The Romanian Embassy and homeless charity Thames Reach both backed the eviction.
The operation to remove the squatters began at about 05:00 BST.
'Squalor'
It is the third time the site has been occupied by squatters since the club left in 2009.
Councillor Dean Cohen said: "This is suburban London and several residents have raised the issue of the squatters with me.
"This is knocked-together accommodation with no sanitation and the inherent health risks that (this) brings.
"I'd like to say a particular thank you to the Romanian Embassy who have walked a very careful line between the responsibilities they have to their citizens and the understanding that this kind of squalor has no place in London."
A Home Office spokesman said: "Immigration papers were served on a number of individuals of Eastern European origin, some of whom have indicated they are willing to return to their home country voluntarily.
"We will now be dealing with those accordingly."