Thousands march in London Pride parade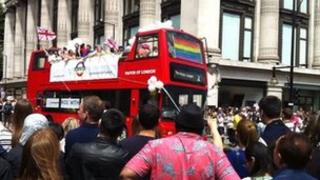 Thousands of people have joined the Pride parade through central London.
The parade began in Baker Street, passing through Oxford Street, Piccadilly and Trafalgar Square before ending at Whitehall.
Organisers said this could be the biggest lesbian, gay, bisexual and transgender event in London over the last decade.
The theme this year is Love and Marriage to coincide with MPs considering the Equal Marriage Bill.
About 150 groups were involved in this year's parade.
Michael Salter, chairman of Pride in London, said: "This year the theme is... to celebrate civil partnerships, parents' love for their children, love of friends and family but it also recognises the Equal Marriage bill going through Parliament."
Prime Minister David Cameron has written in the Pride guide about the Equal Marriage Bill.
He said: "There will be girls and boys in school today who are worried about being bullied and concerned about what society thinks of them because they are gay or lesbian.
"By making this change they will be able to see that Parliament believes their love is the same as anyone else's love and that we believe in equality."
Mayor Boris Johnson said: "We should be very proud of London's reputation as a place where LGBT people can be open about who they are.
"Our city has been at the forefront of the drive towards equality, but let's not rest on our laurels - of course more needs to be done to tackle prejudice and discrimination.
"This means standing up against homophobic bullying in the workplace, schools and elsewhere."
Participants were ending the day with parties in Trafalgar Square, Soho and at a music festival in Shoreditch Park.