Campaign to get Brixton Windmill grinding flour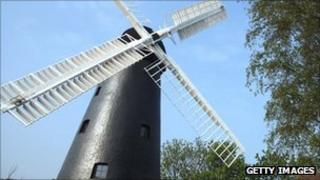 Campaigners are trying to raise £20,000 "flour fund" to see if an 1816 windmill in south London can start grinding grain for the local community.
Millstones at Brixton Windmill, also known as Ashby's Mill, were last used for milling flour in 1934.
Friends of Windmill Gardens hope the production of flour can begin in time for the 200th anniversary.
Brixton Windmill was a working mill for 50 years and was revived in 1902 with steam and gas powering the millstones.
Ashby's Mill was one of 12 windmills built in the area but development of the suburbs during the Victorian era blocked the wind powering the sails.
'Derelict too long'
The millstones started turning again in 1902 with the adoption of steam and later gas, but all production was halted in 1934.
The money raised by the campaign would be used to carry out a feasibility study to see if a steady "local" supply of grain and a profitable market could be found for the flour.
Campaigners want to use steam-powered millstones.
Jean Kerrigan, chairwoman of the Friends of Windmill Gardens, said: "We really want to secure the future of the building.
"It was derelict for too long.
"When people come to see it they always ask 'why doesn't it make flour? Can it make flour?'."
Restoration work began after a £581,000 grant in 2010 and the windmill's sails turned for the first time in November last year.