Lewisham Hospital cuts fight goes to High Court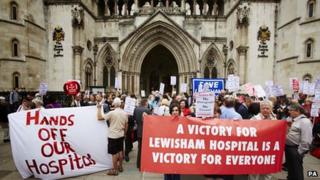 Campaigners opposed to cuts at a London hospital have taken their battle to the High Court.
Health Secretary Jeremy Hunt told MPs in January that accident and emergency and maternity services at University Lewisham Hospital in south-east London would be downgraded.
He said the neighbouring South London Healthcare NHS Trust was losing more than £1m every week.
Campaigners argue the move is unlawful.
'Misunderstood powers'
One application for permission to appeal is being made by Save Lewisham Hospital Campaign which raised a fighting fund of £20,000.
Another is being made by the London Borough of Lewisham.
Both argue that the decision made by Mr Hunt goes beyond his powers.
Rosa Curling who is representing campaigners said: "The consultation process was flawed, the four tests Mr Hunt confirmed would have to be satisfied have not been met, and the Secretary of State has misunderstood his own legal powers."
Elisabeth Laing QC, for the council, told Mr Justice Silber that Lewisham was a "very good hospital" and the range of health services provided there was "greatly valued by local people and by the council".
If the changes were made it would mean local people "will have to travel a long, long way further to get access to vital services," she said.
In January, Mr Hunt accepted six of the seven proposals put forward by trust special administrator Matthew Kershaw.
They came about after South London Healthcare NHS Trust - separate to Lewisham Healthcare Trust which runs Lewisham Hospital - ran up debts of £150m.
The trust, which is in administration, was described by Mr Hunt as the "most financially challenged in the country", as it spends £60m a year, or 16% of its annual income, to service two PFI contracts signed in 1998.
He said up to three quarters of those currently attending Lewisham A&E could attend a smaller, consultant-led unit at the hospital with patients presenting more serious conditions being taken to other hospitals.
The proposed changes have been stalled pending the court's decision.
A judgement is expected at the end of the three-day hearing.
Submissions will be heard on behalf of the Health Secretary that the decision made in relation to Lewisham was not unlawful.