London hospitals first to try intensive care video link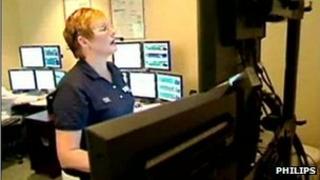 Two hospitals in London will become the first in Europe to monitor intensive care patients using a video link from a remote location.
Guy's and St Thomas' hospitals said the system with two-way audio communication could drive up the standard of care overnight and at weekends.
The technology would not replace visits from consultants, they said.
The system will provide care to a minimum of 65 patients, with the potential to expand to cover 120.
'Shorter hospital stays'
The Philips eICU Program used in about 300 hospitals in the United States has a nerve centre of doctors checking on up to 150 beds in different intensive care units in different hospitals.
Bedside staff members are alerted when needed.
According to Philips, the technology has cut patient deaths in the US by a quarter and reduced the length of hospital stays by 23%.
Dr Richard Beale, clinical director of perioperative, critical care and pain services at Guy's and St. Thomas', said: "ICU (intensive care unit) is one of the most challenging areas of the hospital - it is where doctors and nurses respond to the sickest, most vulnerable patients who can rapidly take a turn for the worse with little or no advance warning."
He said the technology will give bedside clinical staff "immediate access" to a team of senior colleagues to "help save lives, reduce complications and decrease the length of ICU stays".
The technology will be installed over the next nine months on a trial basis costing £2m.