Profile: Newspaper owner Eddy Shah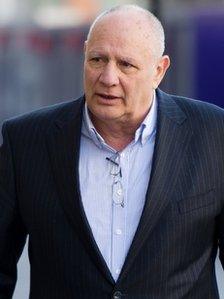 The motto for Eddy Shah's newspaper, Today, was "propa truth, not propaganda" and it is that which has come out in court.
Charged with six counts of raping a girl under 16 in the 1990s, he was found not guilty during a trial at the Old Bailey, following his initial arrest in 2012.
The case also involved Susan Davies, 53, of Swanley, Kent, who was cleared of 14 counts of aiding and abetting rape, indecent assault and child cruelty and Anthony Pallant, 53, of West Malling, Kent, who was cleared of six counts of rape and indecent assault.
All denied the allegations against them, but Eddy Shah was the most publicly known of the three defendants.
Selim Jehan Shah was born in Cambridge in 1944 to an English mother and Iranian father and went on to lead a varied career spanning the media, publishing, construction and hospitality sectors.
Known as Eddy, he was educated in Scotland before working as a floor manager for the BBC and later on Granada's Coronation Street and Till Death Us Do Part where he met his wife Jennifer, an actress and model.
Uninspired by his work, Shah soon moved on to the Manchester Evening News until redundancy forced him to reconsider his career and he launched his own newspaper, the Warrington Messenger, in 1983.
It became the first of a portfolio of 60 for the proprietor but was also the cause for his first spat with the trade unions after he wanted to employ staff who were not unionised .
It set him on a collision course with the National Graphical Association (NGA). Mass picketing of the paper's offices and print works followed, leading to violent clashes with riot police but NGA eventually backed down.
During an interview in 2002 with The Observer he said: "They [trade union] came to me and said they wanted to unionise. I said, 'Fine, put it to a vote.' Six of my staff didn't want to unionise, so the unions asked me to fire them. I said I wasn't prepared to do that.
"After that I just had to get on with it, so I decided to launch a new national newspaper."
It was 1986 that Today launched, a tabloid to rival The Daily Mail and Daily Express that revolutionised the industry with colour printing.
But this new technology meant fewer printing jobs such as typesetters and the strikes returned.
Known as the Wapping dispute, it lasted seven months and got personal, with Shah receiving death threats and taking delivery of five coffins at his home where he, his wife and three young children lived.
The following year Shah sold the paper but it continued through several changes of hands before ceasing in 1995.
He continued with his other publications, before he walked into the office one day and decided "I'm bored", leading to the sale of his newspaper empire in 1988 to Newsquest for £40m.
In 1989 he set up Messenger TV, an independent company which produced programmes including Capstick's Law. He moved on again in the 1990s to become the author of five books, even moving to the US to concentrate on his literary career.
On his return to the UK, he declared he was bored with his role as a novelist saying: "It wasn't as good as I thought it would be".
Shah and his wife established Messenger Leisure to run a chain of golf clubs and hotels and his latest business venture involves building eco-friendly homes at affordable prices through his Green Ladder Homes firm.
He was also heading a business consortium in Wiltshire to transform RAF Lyneham into a theme park and heritage centre although Wiltshire Council is currently considering plans by the Ministry of Defence to turn it into a £230m military training centre.
Now that this court case has ended who knows what the multifaceted Mr Shah will do next.
Related Internet Links
The BBC is not responsible for the content of external sites.