'Race abuse' PC sacked from Metropolitan Police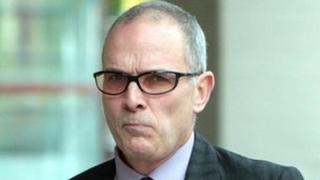 A police officer who twice went on trial for allegedly racially abusing a suspect has been sacked from the Metropolitan Police.
Alex MacFarlane, 53, had denied causing racially aggravated intentional harassment, alarm or distress to Mauro Demetrio on 11 August 2011.
Mr MacFarlane faced two trials, but the jury were unable to reach a verdict at both.
Now a Met hearing has found him guilty of gross misconduct.
The incident occurred in August 2011, when officers on vehicle patrol in Newham, east London, arrested Mr Demetrio on suspicion of driving while unfit.
He was taken to Forest Gate Police Station where he alleged racist remarks were made to him as they had travelled in a police carrier.
Mr Demetrio had secretly recorded some remarks by Mr MacFarlane on a mobile phone.
'Only appropriate outcome'
Commander Allan Gibson, of the Directorate of Professional Standards, said: "The Met requires officers to act professionally at all times.
"The misconduct hearing carefully considered all the evidence in this case.
"It quite rightly took a very serious view of PC MacFarlane's conduct and emphasised that all members of the public have the right to be treated with respect and courtesy."
He added: "His breaches of our standards of professional behaviour were judged so serious that dismissal was the only appropriate outcome in this case."