Brother held over murder of pensioner in India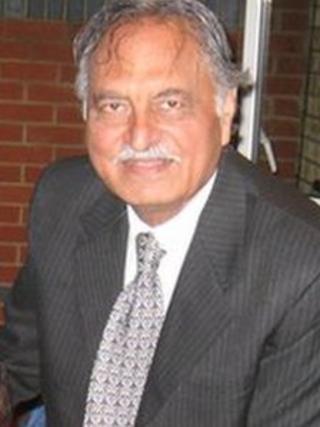 Indian police investigating the murder of a west London pensioner have arrested his British brother.
The body of Kulwant Singh Grewal, 76, from Southall was found in a village near the city of Ludhiana, northern India, on 30 May.
Mr Grewal was visiting India when he went missing on 16 May. The authorities say he was beaten and stabbed.
His brother, Jaswant Singh Grewal, 62, is being held for questioning in judicial custody at a jail in Ludhiana.
He is a retired businessman from Surrey,
Inspector Satinder Pal Singh, of Punjab police who is leading the investigation, said: "Jaswant Singh Grewal was arrested and sent to judicial custody.
'Quite horrific'
"After some time, we will present a case and the court will decide if charges should be brought."
Officers say they are able to detain Jaswant Singh Grewal for questioning for up to 14 days at a time before seeking an extension through the courts, although he cannot be detained for longer than 90 days without charge.
As no formal charges have been brought against him, Jaswant Singh Grewal's family living in the UK declined to comment on the case.
Meanwhile, in London, Kulwant Singh Grewal's widow, has praised the Punjab police for their assistance.
She said: "They helped me a lot. I never thought they would but they did."
However, she remains shaken by the killing and admits her family is still struggling with the loss of a much loved husband, father and grandfather.
"He looked after us, he did everything, he was the main person for us and now we are left without him."
For son Iqbal Grewal the brutal nature of his father's death is the most upsetting.
"He was a 76-year-old man.
"He was attacked with a sharp instrument around the head, it's quite horrific. It's completely tearing me up."