Demos in east London call for an end to renters' fees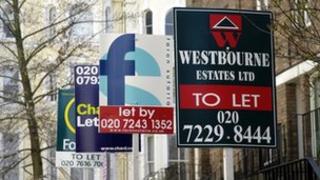 Hackney residents staged demonstrations outside high street letting agents calling for an end to "rip-off" tenancy fees.
The action follows a private member's bill put forward by MP John Healey which calls for a ban on such fees, which can range from £100 to £500.
Private tenants' group Digs said residents gathered outside letting agencies on Saturday.
The group said letting agents had helped to push up private rents.
'Protection money'
Rosie Walker, a private tenant from Hackney said: "When I moved into a flat in Stamford Hill the agent asked for a £150 'security fee' on top of the usual deposit and signing fee (about another £100).
"When I asked what 'security fee' meant, they explained that it was 'highly recommended' because 'this landlord could get difficult when it comes to returning the deposit'.
"In the criminal world, this is called protection money."
Heather Kennedy from Digs, a private tenants group based in Hackney, said England should follow the example of Scotland, where under the 1988 Housing Act fees for tenants did not exist.
"Letting agents need to recognise that renters are tired of being ripped off and treated badly," she said.
"More and more tenants in Hackney and across London are now getting organised and standing together, demanding fair treatment from letting agents and landlords.
"The government needs to recognise that in a city where demand for affordable housing far out-strips supply, regulation of letting agents is desperately needed to protect renters from the worst excesses of an overheated rental market.
"MPs must follow the example of Scotland by banning rip-off fees which are making the private rented sector inaccessible to people on low incomes who have nowhere else to go."
'Good service'
Mr Healey, a housing minister in the Labour government, whose constituency is in South Yorkshire, introduced a ten-minute rule bill earlier this month calling for an end to the high fees charged by letting agents.
Mr Healey said: "Letting agent fees have spiralled out of control, with tenants facing a bewildering and costly range of upfront fees for basic services. At a time when living standards are falling, renters are paying hundreds of pounds in fees just to get a roof over their head."
Most high street letting agents will charge new tenants fees of between £100 and £500 for services such as reference checks, conducting an inventory or general administration fees.
A spokesman from London Estate Agents Felicity J Lord said it charged a £250 tenancy fee then £50 per extra person to cover referencing costs and the necessary safety checks along with financial costs such as registering the deposit.
"We do employ a dedicated administrator who ensures that the tenant is fully protected and all the necessary checks have been done to make sure nothing goes wrong with the agreement from start to finish.
"This is not our total net income, this is what it costs us to ensure we do provide a good service."
Foxtons said in London it charged £350 for a tenancy agreement plus an £125 check-out fee.