Old Oak Common HS2 station plan views sought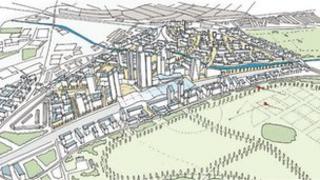 Views are being sought on plans for a High Speed 2 and Crossrail station in west London, as part of a scheme it is claimed could create up to 90,000 jobs.
Greater London Authority is consulting residents on the plan for Old Oak, which it says will generate jobs and see thousands of homes built.
If plans do go ahead the area would be redeveloped by 2043, with the station open in 2026.
Stop HS2 campaigners say the plan would cause disruption for commuters.
'Not new jobs'
A group spokeswoman said: "The HS2 project has not considered the cost of lost time for commuters and the loss to businesses as people might be put off from going to the area because of the traffic."
HS2 Action Alliance is also against the proposals and claims the job forecasts are not accurate as most of the jobs would not be "genuinely new jobs".
According to the alliance website: "Most of the jobs located around stations will be jobs associated with retail activity that have simply moved from other areas to be nearer the new stations."
Under the proposal Old Oak Common, which lies to the north of Wormwood Scrubs, and 500m south of Willesden Junction, would see large areas of disused railway depot land turned into an international station with links to Paris, Birmingham, central London, Heathrow and Canary Wharf.
GLA said HS2 Ltd, the company responsible for developing the high speed rail network and owned by the Department for Transport, currently has no plans to include a new overground station at Old Oak to connect to the local network.
Transport for London and Network Rail are lobbying the government to include a station at Old Oak, claiming it would help relieve traffic congestion.
They are also lobbying to extend the Crossrail network from Old Oak Common towards Wembley and beyond, increasing access to destinations across London.
The public consultation will end on 6th September.