Doreen Lawrence to address MPs over smear claims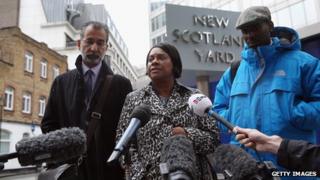 The mother of Stephen Lawrence is to appear before the Home Affairs Select Committee following claims that police tried to smear her family, a spokesman for the Committee has said.
Doreen Lawrence called for a public inquiry after former Met officer Peter Francis said he posed as an anti-racism campaigner following her son's murder.
She will appear before MPs on Wednesday with her lawyer Imran Khan.
Two existing inquiries are to examine the claims.
There is already a police investigation into the activities of undercover officers, Operation Hearne.
Another inquiry into corruption in the original investigation into Stephen's murder is being led by Mark Ellison QC.
He will also appear before the committee on Wednesday.
Met chief Sir Bernard Hogan-Howe and Mayor of London Boris Johnson are to answer MPs' questions on Tuesday.
Mrs Lawrence met with Mr Hogan-Howe and home secretary Theresa May last week.