Whittington Hospital bosses announce revised plans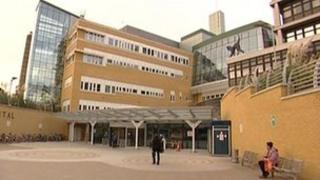 A north London hospital has announced changes after scaling back plans which would have seen hundreds of beds and jobs axed.
Original plans to downsize the Whittington Hospital in Archway were abandoned following protests.
The hospital trust said two buildings would no longer be sold, £10m would be spent updating maternity services and agency staff numbers would be cut.
The Defend the Whittington Hospital Coalition welcomed the changes.
The Whittington Health trust had originally planned to close the Jenner Building and Whittington Education Centre, resulting in 230 fewer beds and the loss of 570 jobs.
'More flexible'
The trust, which says it has to save £17m, said it would look to make the savings elsewhere.
It said it would seek a further £10m to expand maternity services in the future and was committed to keeping the reduction in permanent staff to the "absolute minimum".
Dr Greg Battle, medical director of Integrated Care at the hospital, said: "We recognise what we put in our strategy in January around potentially selling off some buildings to invest in maternity care services hasn't gone down well.
"What we've done is look more broadly about how we can still deliver our clinical strategy but be a bit more flexible about what our future holds in terms of buildings."
Shirley Franklin, chairwoman of protest group Defend the Whittington Hospital Coalition, said: "The whole of the Whittington community was very angry; very upset; very anxious."
But she hailed the new plans as "fantastic".