London bike hire staff vote in favour of strike action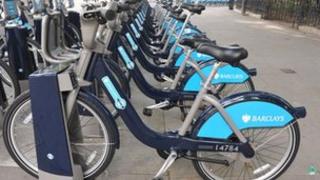 Staff running London's bike hire scheme have voted in favour of strike action in a row over pay and conditions.
The RMT union claimed its members had voted 100% in favour.
They are unhappy at getting a 2% pay rise in 2013 and changes to shifts. They have also made claims of harassment and bullying.
RMT General Secretary Bob Crow said staff were being "kicked from pillar to post". Serco, which runs the scheme, called industrial action "unnecessary".
Following the vote the union decided to ban overtime work from 00:01 BST next Tuesday and said it would "consider" holding a full strike.
'Risks chaos'
Mr Crow said: "RMT will not stand aside and watch this group of key transport staff get kicked from pillar to post.
"The scheme has attracted global publicity but now risks collapsing into chaos through a massive under-investment in staff, bikes and docking stations."
Serco's Barclays Cycle Hire contract director said: "We are very disappointed that the RMT has decided to take unnecessary industrial action over pay and working conditions by stopping staff working overtime.
"We will make every effort to minimise possible disruption in service to the thousands of Londoners who rely on the scheme to get around the city every day."
Serco said its recognised union at Barclays Cycle Hire is Community and it had consulted with staff via that union to reach an agreement on the issues raised by the RMT.
The cycle hire scheme, dubbed "Boris bikes" after London mayor Boris Johnson, started in 2010.
There are more than 8,000 bikes available over 570 docking station across central and east London.
Barclays Cycle Hire general manager Nick Aldworth said "We contract Serco to manage the scheme and as such the employment conditions of their staff is an issue for them.
"We will monitor the situation and understand that Serco have contingencies in place to avoid any disruption."