Jason Lodge jailed for killing man by stamping on head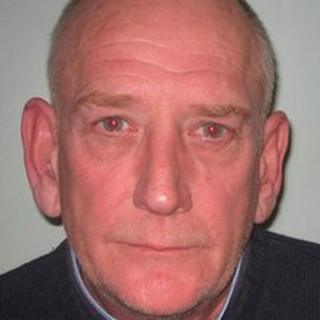 A man who killed a 55-year-old man in south London by stamping on his head with "wildly excessive" force has been jailed for 12 years at the Old Bailey.
Jason Lodge, 39, of New Addington, was found guilty of manslaughter but cleared of the murder of David Petch.
Lodge's partner Cherri Gilmartin, 37, was cleared of both charges.
Mr Petch was attacked in his flat on a New Addington estate last April after being accused of supplying Ms Gilmartin's sister with cocaine.
Judge Anthony Morris QC said the father-of-nine died due to six or seven blows to the head, "at least some of which were applied with severe force".
Brain injury
Lodge and his partner, both of Uvedale Crescent, had been drinking in a pub nearby and decided to confront the victim over the drugs allegation. They went into the flat and to Mr Petch's bedroom uninvited, the court heard.
The judge said: "Both of you were effectively strangers to Mr Petch so I'm satisfied he would have been terrified by your presence in his bedroom."
The 55-year-old had armed himself with a baseball bat before leaving the flat with the couple, but was soon disarmed and knocked over.
Lodge then went on to "stand at least six times or more on his head as he lay defenceless on the ground", the judge said.
The killer also "stamped twice more with force on his head", the court heard.
A witness described the attack "as if you were trying to put a fire out", the judge added.
Mr Petch died from a brain injury four days after the 14 April attack.
During the trial Ms Gilmartin denied hitting the victim, while Lodge claimed he was acting in self-defence after being attacked first.