'Abduction' doctor Humma Dar struck off medical register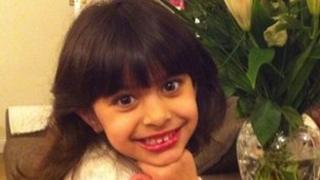 A doctor who is wanted for abducting her eight-year-old daughter has been struck off the medical register, the General Medical Council (GMC) says.
Dr Humma Dar vanished with Aamina Khan, of Morden, south-west London, in August 2011 after her marriage broke up. They are believed to be in Pakistan.
Dr Safraz Khan, from Croydon, had been granted custody of his daughter.
The GMC said a panel had decided Dr Dar's actions brought the profession into disrepute.
A statement issued by a Medical Practitioners Tribunal Service panel said Dr Dar's behaviour had been "callous and disgraceful".
'Morally culpable'
"Dr Dar chose to break the law; it was not an accidental breach of the court order.
"The panel has determined that Dr Dar's conduct was of a morally culpable nature which brings the profession into disrepute.
"In these circumstances the panel has found that Dr Dar's behaviour amounts to misconduct.
"The panel has determined that the serious and deplorable nature of Dr Dar's misconduct means that her fitness to practise is impaired by reason of that misconduct," it said.
The statement also said Dr Dar was "actively seeking" to conceal her whereabouts.
"In the serious circumstances of this case, the panel has determined that the wider public interest can only be satisfactorily protected by erasing Dr Dar's name from the medical register."