Firefighters remain at Epping Forest blaze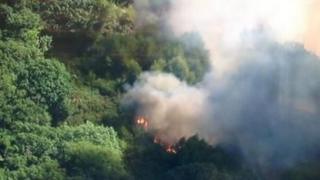 Firefighters are still at the scene of a woodland fire in Leytonstone, east London, which took almost four hours to bring under control.
About 100 firefighters tackled two fires on the edge of Epping Forest and on Whipps Cross Road on Friday.
London Fire Brigade (LFB) said no properties had been affected by the fire, which was brought under control at 18:45 BST.
A spokesman said one fire engine was still at the scene damping down.
It is not yet known how the fire started.
Some people tweeted that smoke could be seen from the Olympic Park, several miles away from the forest.
Supt of Epping Forest, Paul Thomson, said he hoped people would continue to enjoy using the forest in the future but he urged the public to take "particular precautions" with barbecues and cigarettes.
The spokesman said thanks to cooler temperatures on Saturday it was not a busy day for grass fires but urged people not to be complacent as it was still very dry.
LFB so far this month it had dealt with more than 460 grass fires.
Meanwhile in south-east London a woman suffered minor burns to her arm when a fire took hold in a garden and quickly spread to neighbouring gardens.
Firefighters were called to George Lane in Lewisham at 10:41 BST after a row of conifer trees and garden sheds caught fire. The woman was treated at the scene.