Selfridges robbery: Smash-and-grab watch raid brothers jailed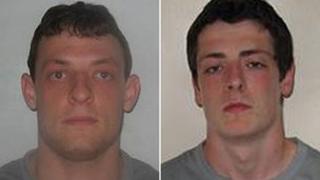 Two brothers have been jailed over a smash-and-grab raid in which watches worth almost £1.5m were stolen from London's Selfridges store.
The department store in Oxford Street in central London was raided on 6 June.
Sam Curtin, 24, and Connor Groake, 19, both from Islington, pleaded guilty to conspiracy to rob and aggravated vehicle-taking earlier this month.
Curtin was sentenced to 10 years in prison, while Groake was jailed for seven years, at Kingston Crown Court.
Sentencing the two defendants, Judge Nicholas Price QC said the raid had been carried out with "remorseless efficiency" and ordered Curtin to serve an extended sentence for the public's protection.
"This had all the hallmarks of a professionally planned commercial robbery," the judge said.
'Remorseless efficiency'
Curtin appeared in court on crutches having broken his leg in a crash on one of the getaway vehicles, a Vespa moped, which was being driven by Groake, the court heard.
Members of the group used axes and sledgehammers to smash glass cabinets then filled holdalls with the watches.
Horrified shoppers looked on as the gang met accomplices outside with getaway vehicles, before Curtin and Groake were caught moments later. No-one else has been charged over the raid.
The judge added: "It is a matter of regret that you two are the only ones apprehended. I have no doubt the police investigation will continue.
"It was chilling to see how those robbers carried out that robbery with such remorseless efficiency."
Mohamed Hussein, a restaurant worker who chased and apprehended Groake before police arrived, was praised by the judge for his actions and awarded £500 as compensation.
Samantha Morris, Crown Prosecution Service London reviewing lawyer, said: "The group stormed the store and used axes and sledgehammers to break glass display cabinets and scoop out the high value items by the handful.
"The ferocity of the attack caused members of the public to fear for their lives with some even thinking it could be a terrorist attack."