Man and woman killed in Heston flat fire named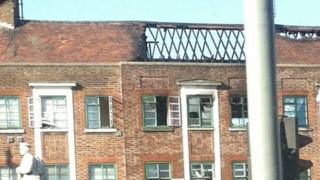 A man and a woman who died following a fire at a building in Heston, west London, have been named by police.
Three people jumped from the Church Road building on 10 July after a fire broke out in the early hours.
One of them was 44-year-old Shamshad Molohoo, of Central Parade, Heston. She died from head and chest trauma.
The body of the second victim, Ali Choudhary, 27, also of Central Parade, was found inside the building. He died from inhalation of fumes.
Police believe the fire started in a second floor flat which then spread to neighbouring properties in the block at Central Parade. The victims lived in separate flats in the block.
The circumstances of the fire are under investigation and the blaze is being treated as unexplained by officers.
Police are not seeking anyone else in connection with the inquiry into the fire.