Roma Gypsies return after Marble Arch dawn raid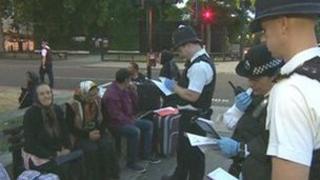 A number of Roma Gypsies have returned to an area of central London days after the police and Home Office targeted them in a dawn raid.
The group were warned to move on from the Marble Arch end of Park Lane last week when their immigration status was checked.
About 20 initially took up the offer of free flights back to Romania, with 19 more later deciding to return home.
Westminster Council said the return showed how "endemic" the problem was.
The raid was part of Operation Chefornak which has been targeting rough sleeping, begging and associated criminality within Roma communities in Westminster, the Metropolitan Police said.
Those who have not taken up the offer to be flown home may be issued with a 30-day notice to leave the UK.
'Hide and seek'
Westminster City Council's cabinet member for community protection, Nickie Aiken, said: "The fact that more Eastern European rough sleepers have appeared at Park Lane so soon after the recent operation to break the camp up just shows the endemic nature of this problem.
"The reality is that people determined to beg know the law perfectly well and they are abusing the 90-day limit to be here, only to return after a few days somewhere else.
"As a local authority we do what we can to disrupt rough sleeping camps and make life difficult for those who beg and commit low level crime.
"Businesses and residents in Westminster are utterly fed up with it and that's what they expect us to be doing."
She said until people suspected of entering the country to beg were stopped at the border, the council would be "forever be playing this hide and seek game around central London".
The Met said addressing rough sleeping in Westminster was a continuing operation.
It said: "Progress has been made but we are not complacent. We are committed with all partner agencies to deal with this issue in a robust and balanced way."