Joseph Burke-Monerville murder: Police offer £20,000 reward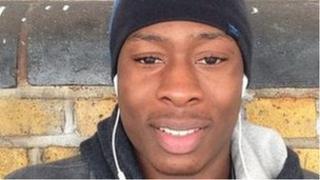 Police have offered a £20,000 reward for information leading to the killers of a teenager murdered in a case of mistaken identity.
Joseph Burke-Monerville, 19, was shot as he sat in a car in Clapton, east London, with his twin brother, who was not injured.
Their older brother, 32, was shot in the arm.
Joseph from Islington, north London, was shot in the head and died several hours after the shooting in February.
He had no links to gangs, police believe.
Five men, aged from 17 to 24, have been arrested on suspicion of murder and have all been released on police bail.
'Tragic case'
According to information on his Facebook page, he was studying forensic science at London Metropolitan University.
Det Supt Gordon Allison said at the time of the shooting: "As far as we're concerned, this looks like a tragic case of mistaken identity.
"They have parked just opposite a shop - we believe they were going to go into the shop and make a couple of purchases and then they were going to go home.
"They have been approached by the two suspects, a short conversation has taken place and as a result of that, three shots were fired into the vehicle, resulting in the fatal injury of the victim."
Crimewatch appeal
Officers are appealing for two suspects seen running from the area.
The first is described as black, and the second is described as light-skinned - possibly of Asian or Turkish appearance.
They were wearing dark hooded tops, with bandanas covering their faces.
An appeal for information will be made on the Crimewatch programme on 25 July on BBC One at 21:00 BST.