Met arrest 480 in London crackdown on suspected thieves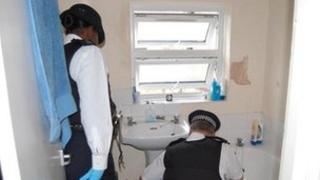 Nearly 500 people have been arrested in a Metropolitan Police crackdown on thieves who target people's phones and other valuables.
Dawn raids targeted suspected thieves with 7,500 police officers out across all London boroughs in the operation.
Personal theft has risen 14.4% over the past year, according to latest Metropolitan Police figures.
The rise is largely down to a surge in mobile phone phone theft, Scotland Yard said.