One woman dead and two injured in Brixton stabbing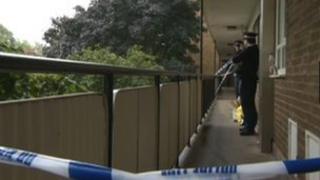 A 40-year-old man has been arrested on suspicion of murder after two women and a teenager were stabbed in south London, one fatally, Scotland Yard said.
Police were called to Redlands Way, Brixton, south-west London, at 18:41 BST on Monday where a 46-year-old woman was found with a number of injuries.
Later, police found a 28-year-old woman dead and her 17-year-old sister with stab wounds at Tilson Gardens, Brixton.
The man is in custody in south London.
'Truly tragic'
Police said they believed all three victims were known to him.
He was arrested on a bus in Leigham Court Road, Streatham, at 00:42.
The 46-year-old woman is in a critical condition. The teenager is serious but stable, police said.
Det Insp Will Reynolds said: "There is no suggestion that the victims were selected at random."
He added: "Although the circumstances are truly tragic this is an isolated incident."
An eyewitness, Robert Anderson from Redlands Way, said he saw the woman on her balcony trying to use a door to parry the blows of a knife.
He said: "I've never seen anything like that. It shook me up. I haven't slept since last night."
'Ferocity of violence'
Eyewitnesses at both estates said children witnessed the attacks.
Hawa Musse, 20, from Tilson Gardens, said the dead woman's son came out screaming for help from a balcony.
She said: "He was shaking. He only had one piece of cloth around him."
Chuka Umunna, Labour MP for Streatham, said the community would be "deeply disturbed and upset at what happened on the Roupell Park and Clapham Park estates last night".
He said: "I think the most disturbing thing is the ferocity of violence which occurred and which was witnessed by young teenagers and children on the two estates."