Rehana Begum: Arrest over woman's murder in Bangladesh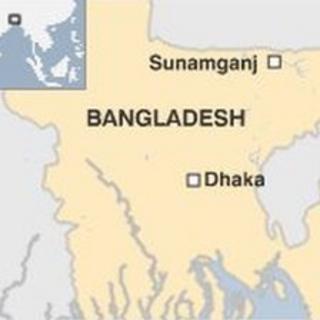 Police in Bangladesh have arrested a man over the murder of a mother from east London.
Rehana Begum, 43, a British national from Stepney, was killed in Sunamganj, in the north-east of the country, on Friday.
Local police told the BBC in Bangladesh they were focusing on the possibility of a rejected marriage proposal within the family.
Bashir Mia was arrested on Saturday afternoon.
Bangladeshi Police said he was a male relative of the victim's husband and they suspect he was the planner of the attack.
Stabbed to death
Officers continue to hunt another five men.
A post-mortem examination of Ms Begum on Friday evening found she was stabbed.
She has since been buried in her home village of Jagannathpur, in the Sunamganj province.
On Friday, a man claiming to be a family member told BBC London she had been on holiday in the country with her husband and 12-year-old son since 17 July.
The man, who was calling from the south Asian country, said: "She came to Bangladesh to visit her family.
"She has been hacked to death by four people for jewellery and money."
The Foreign and Commonwealth Office said it was providing consular assistance to Mrs Begum's family.